If you want to live stream or capture the screen of your DAW, including the DAW's audio output (e.g. for youtube tutroials etc),  you need to activate "Loopback" in your Steinberg Interfaces (like the UR22 MK 2 ). No extra Plugins are required!
With loopback the output signal of your DAW is internally routed to your Mic / Line inputs (channel 1 + 2) so that you are able to record the DAW's audio output stream at the same time you play it back with your same UR Interface. Or in other words with loopback you make your Steinberg Interface a Full Duplex device.
But don't forget to deactivate loopback again before you do your next instruments or vocal recordings. Otherwise you can create a heavy feedback.
IMPORTANT: in your Screen Recorder (OBS Studio) you need to select the Mic input instead of Line input (see the screenshots below)
Setup OBS Studio:
open mic audio settings
select properties
select Line (2-Steinberg…
CUBASE:
Studio -> Studio Setup
Select your Steinberg Interface (ASIO Driver)
Control Panel -> Enable Loopback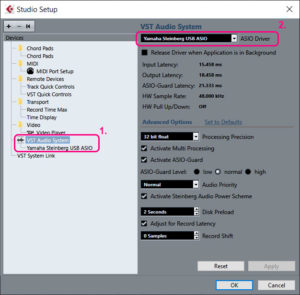 FL Studio:
Options -> Audio Settings
Select your Steinberg Interface (Device)
Show Asio Panel -> Enable Loopback
Ableton LIVE:
Options -> Preferences -> Audio
Select Your Steinberg Interface (Audio Device)
Hardware Setup -> Enable Loopback
We are sorry that this post was not useful for you!
NOTE: highly negative votes may be removed without any reasonable given feedback!
Tell us how we can improve this post?